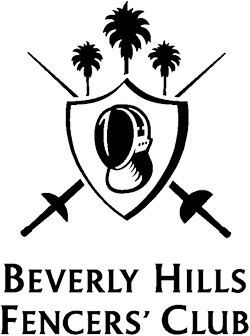 The BHFC Returning to Training
Guidelines.
Dear Friends and Family,
The last several months have seen a challenging change for everyone. Lockdowns, quarantine, social distancing, and now the protests that are currently being held across our country. All of us have felt the stress of our changing lives, the feelings of being overwhelmed by the medical and social happenings in our world today and the need to get back to a somewhat normal pace of our life.
Understanding that going back to how it was is not possible at this time but going to a New Model that will be safe and allow us to resume some of our activities in the very near future is within reach.
Reopening is something that we all want to do, but we also want to do it safely.
Most of us in the fencing world aren't health experts, but fortunately there are plenty of guidelines and structures published by the CDC, the government of California, and the Los Angeles Health Department that we can utilize to our benefit.
We've pulled information from these resources to create a plan for reopening, adapting it to the specifics of the fencing club training. Of course, there is always a risk and no system is perfect, but having consulted with the rest of the fencing community and the resources mentioned above, we are confident our plan will minimize that risk whilst also creating an environment where fencing training can continue.
BHFC is only working in clear accordance with the safety procedures laid out by Los Angeles County, all governmental restrictions and guidance, and what has been set out by Los Angeles Unified Schools.
BHFC continues to keep the wellbeing of our fencers, their families, and our coaching team as our highest priority and will continually monitor and follow all State guidelines for reopening on a limited basis.

You can find our reopening guide by clicking the button below. Please take the time to review and understand the information within it.
BHFC Return to Training Guidelines
The question most of our members are asking is around the timeline of reopening and what that will look like.
BHFC will reopen only after the local health authorities allow it. All in-person classes and private lessons will follow social distancing and health protocols. BHFC has 4 stages for reopening, currently, we are still in Stage 1.
BHFC Stage 1 – (current) All classes and private lessons through Zoom.
BHFC Stage 2- (California Phase 3) In-person private lessons and Zoom classes. We may open small group classes after two weeks of private lessons.
BHFC Stage 3 (California Phase 4) In-person small group bouting and private lessons, Zoom classes
BHFC Stage 4 – (TBD) – Back to normal
Please note that there is no plan yet to return to normal full occupancy fencing classes. We are carefully taking this one step at a time. Stage 3 is what we expect to be in for the foreseeable future. If things change in regard to the pandemic, it is possible that we could have to go back to previous phases. (Let's hope not!)
Revisions to the timeline will be made as new information becomes available.
As always, thank you for your support, and please let us know if you have any questions.