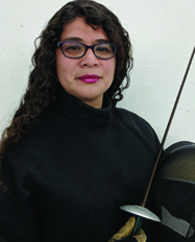 ERIKA RETAMAL VELARDE
Foil Coach
Email
Coach Erika Retamal Velarde was born in Lima, Peru. She is an attorney and a three weapon (Foil, Sabre and Epee) fencing coach at Harvard-Westlake School (2014-current). She came to Los Angeles in 2007 and received her US Citizenship in 2012.
Coach Erika has been involved in fencing for more than thirty years.
She started fencing when she was in school. She became a fencing coach at the age of eighteen years old working at private fencing clubs in Lima, Peru. She has nineteen years of experience as a fencing coach.
Coach Erika represented Peru in International Competitions (South American Fencing Championships) and is the Peruvian National Champion. She is also a member of the United States Fencing Association, member of the Peruvian Fencing Federation and member of the Peruvian Bar Association. She received the Fencing Spirit of Sport Award for the 2018-19 season. Erika is very proud of all the medals, trophies, diplomas, and certificates she has received throughout her career.
For the past eleven years, Erika has taught fencing at private schools, recreation centers and summer camps.
All of her students have won trophies and medals in fencing tournaments.
Coach Erika works hard to prepare every student to be the best that they can be.