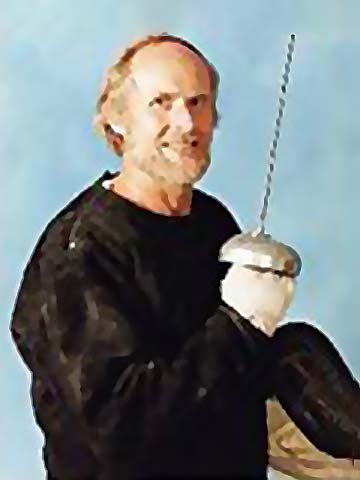 Karl Christe
Member - German National Teams
Instructor
Email
Finalist in numerous World Cups
US World Team member
Fluent in English and German
Karl Christe was born and raised in Germany. He started fencing at the age of 14 in a small club in Bad Mergentheim, from which the world-renown Fencing Center of Tauberbischofsheim originated. His fencing career continued in Stuttgart (1955 – 1961), where he was coached by the eminent German Épée coach Franz Kuehner, and in Vienna (1957 – 1958), where he was coached by the Hungarian Coach Mohamed Resulovich. During these years, he competed in all three weapons at the world class level. Some of his more notable international results during this time period included:
1957: International Championship of Austria, foil 5th, Épée 9th
International Foil Tournament, Graz, 2nd
1958: Tarczaly Pokal, Vienna, saber 1st
Wiener Pokal, saber 1st, Épée 1st, foil 3rd
1959: Golden Épée of Zuerich, 8th
Europe Cup in Épée, Heidenheim, 2nd
International Championship of Austria: Épée, 3rd, foil 6th
1960: International Épée Tournament, Epinal, France, 6th
International Épée Tournament, Saeckingen, 3rd
In the summer of 1960, he ruptured his hamstring shortly before the Olympic Games in Rome, destroying his chance to participate.
After completion of his Ph. D. in chemistry in 1961, he immigrated to the US. He continued to fence and competed for 13 more years in Épée, winning 5 individual West Coast Championships, 2 National Team Championships, and competed in 1969 for the US Team in the World Championships.
In 1983, he started his coaching career, by first teaching his son Mark and his friends, and later also other students. He has produced with Margo Miller a National Épée Champion and with Elisabeth Spilman a runner up. He has been a member of the US coaching staff in Épée at three World Championships (1994, 2001 and 2003).
Karl Christe is also a well known scientist. He works as a Research Professor at the Loker Research Institute of the University of Southern California and as a Senior Staff Advisor at the Air Force Research Laboratory of the Edwards Air Force Base. His specialties are energetic materials and rocket propellants, and his work has been recognized by numerous international awards.
Phone: (213) 740-3552( o), (818) 560-2653 (c)